The calendar never lies: it's almost tax time again and that means time to gather up all the paperwork and figure out all the numbers for your training business. Today's blog points you towards some resources you can use to help make this important task a little easier.
If you are new to the training business world, head over to the Small Business Administration website and check out the "Filing & Paying Taxes" tab under "Starting a Business." There you'll find information and assistance on obtaining a federal tax I.D. as well as how to go about determining your federal and state tax obligations.
Forbes.com is always worth a look for suggestions and insights, and their "8 Tips to Make Tax Season Easier for Small Business Owners" article makes a good case for:
Starting your tax planning early
Using electronic recordkeeping (and back your files up!)
Bringing in a professional tax preparer
Using online filing when you can
You can read the whole article here.
In "Small Business Taxes: Everything You Need to Know for 2016," Business News Daily gives you the skinny on recent tax changes including the extension of two tax incentives regarding equipment and software purchases and leases. The article also touches on the Affordable Care Act, online sales taxes, and, like the Forbes article cited above, talks about the benefits of turning your taxes over to a pro.
Don't forget about Otis!
If you are using Otis to manage your ASHI or MEDIC First Aid Training Center, don't forget you can easily see your order history, so you'll have those important numbers all in one place as you fill out your required tax forms. You can find your order history by logging into Otis and going to the Administration tab on the left navigation. Click "Reports," then select "Administration Reports" and "Invoice History Report," and adjust the date fields for 2015. This report will provide your invoice numbers, dates of purchase, and purchase amounts.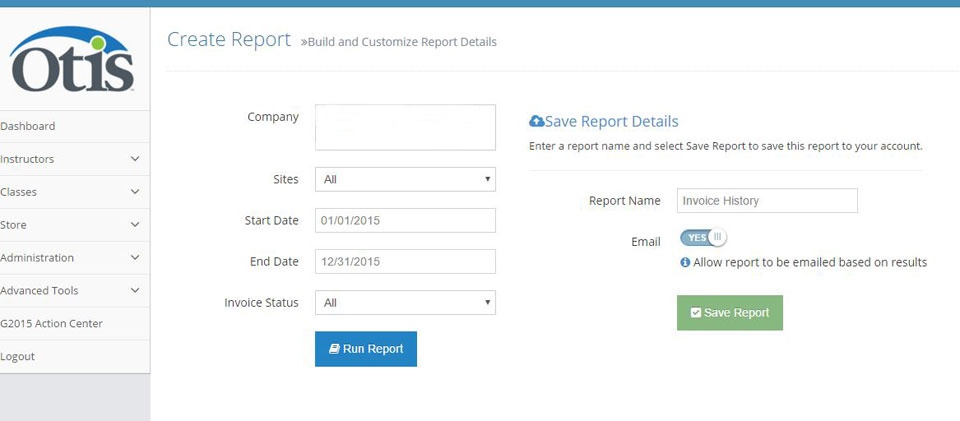 Need a little help navigating all the reporting features in Otis? We would love to hear from you and answer all your questions when you call HSI's Tech Support at 877.440.6049.