Is there such a thing as CPR training that's fun, memorable, and comes to directly to you? If you're in the Richmond, VT area, the answer is a resounding yes.
Advanced Emergency Medical Technician (AEMT) Luke Jackson, training coordinator of Richmond Rescue, has put together an amazing resource to get more and more community members in his area trained in CPR.
In an article for EMS1.com, Luke explained that:
"I wanted to create something that got people excited about learning CPR, something that was totally different than the current process."
What he envisioned was a portable learning station to take to public gatherings, schools, and other locations that would pique curiosity and intrigue bystanders into giving CPR skills a try.
Luke was familiar with, and inspired by, the CPR learning kiosk installed at the Dallas Airport. Created by the American Heart Association, the airport kiosk is credited as the training resource that helped a young man save his friend who had been hit by lightning, and Luke was determined to create something similar for his own community to entice people into learning CPR.
So he took a good idea and worked to make it even better. The AHA kiosk requires the user to stand during the impromptu CPR lesson, and, as we know, kneeling near the patient is the way a rescuer would actually administer chest compressions. The Richmond Rescue team also wanted a device that was easy to transport, unlike the airport kiosk which is stationary.
But the idea didn't really come together until Luke found the solution for a last-but-not-least missing piece.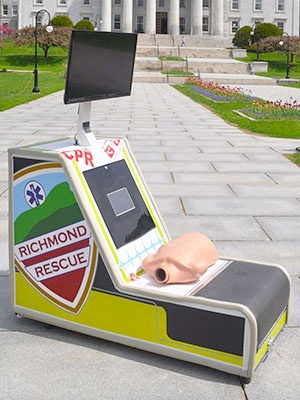 Now, some wood, a TV monitor and tablet PC, a manikin, and an investment of some building (and sometimes rebuilding) time have resulted in a portable learning station that's powered by HSI's LOOP Learning System. Players kneel on the kiosk platform and work their way through one of the LOOP CPR skills games, where they get a realistic taste of how easy it can be to save a life.
Nearby EMS squads are already inquiring if they can borrow Richmond Rescue's kiosk for their own outreach events to show their communities that learning CPR can be a fun experience instead of a somewhat intimidating obligation.
Luke tells us that he has had many inquiries from other EMS directors and trainers across the country that want to build their own kiosks and portable learning stations. Even a dean at a technical college contacted him to discover more about how to put such a platform together.
"The kiosk isn't about making money, it's about taking this idea, building on it, and making it better so that more people are excited about CPR. And the difference that can make in so many lives," explains Luke.
Thank you, Luke and Richmond Rescue, for your longtime support of ASHI and for taking LOOP to a whole new level!